Stage roofing & trusses
Trusses
Which kinds of trusses do we offer?
2M offers the following trusses with a different number of strap pipes. Here, the following applies: More straps result in a higher stability of the construction.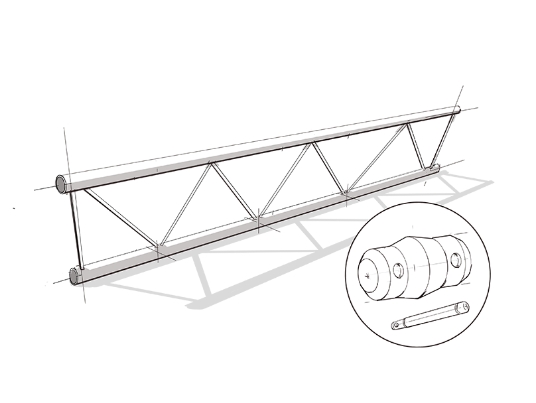 2-point truss
The compact 2-point truss with two strap pipes is perfectly suitable as curtain track or for the installing of lighter spotlights.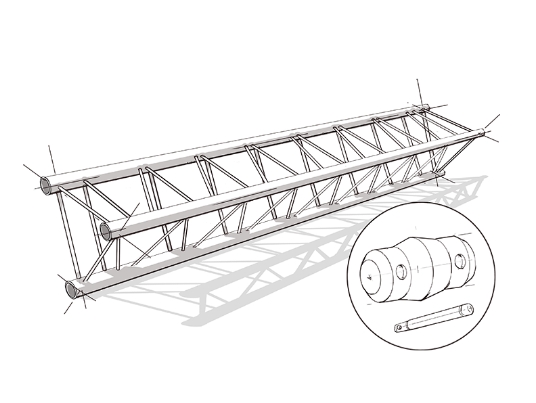 3-point truss
The 3-point truss is often used in trade fair construction as decorative truss and enables also special constructions such as circles for installing spotlights.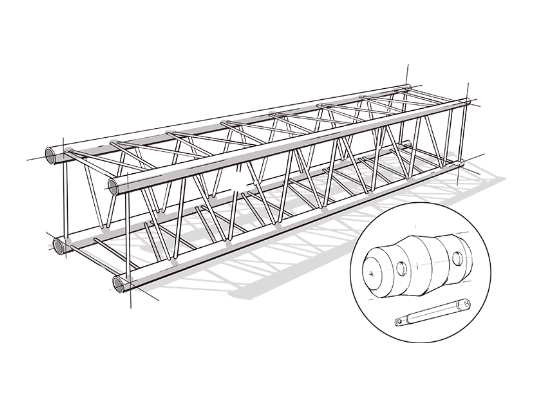 4-point truss
The 4-point trusses are the most common type of truss as they can carry the biggest loads due to their high mechanical stability.  This type of truss is mostly used for the construction of ground supports or stage roofs.
Enquire now!
Are you interested in our trusses? Send us a brief enquiry and you'll receive a perfectly tailored selection of products directly from 2M.
What is a stage truss or a truss system?
A truss is a modular mechanical beam which is used in stage or event technology in order to carry live loads or decorative constructions and stabilize the system. Trusses mostly consist of aluminum or steel; the latter being exclusively used for special construction parts or heavy loads.
Truss systems, however, are very common in booth or store construction as well as in mobile and stationary stage technology. The modular design of the truss systems allows for a flexible application in different areas such as the implementation of individual constructions.
What do trusses consist of?
In general, trusses are made of aluminum, in particular of the alloy EN AW 6082 T6. For bigger systems with extremely heavy loads also steel in different qualities is used. They differ in terms of length, measurements, number of strap pipes and pipe strength.
Which are the application areas of trusses?
Trusses are used for the construction of trade fair booths or stores but also for bigger constructions such as concert stages, stage structures and stage roofs. Aluminum trusses can carry loads such as spotlights and speakers or can be included into the decoration.
Which construction types for trusses are there?
Depending on the event or the planned construction different types of construction can be recommended for trusses. The most common type of construction for trusses is the ground support: The trusses are fixed at the towers or can be pulled up by means of motors. With this flexible type also floating installations such as other truss types or scenery hoists can be easily integrated. For the construction of a stage with roof a ground support with a heavy-load truss is recommended. A truss construction with two or more tripods is particularly suitable for smaller events or trade fairs. When planning structures, the live load of the truss as well as the used tripods and the distance are to be considered. Depending on the height and the loads either elevator tripods or tripods with an electrical drive are needed. In halls or theaters, mostly floating trusses are used due to optical reasons or shortage of space. These trusses are secured by steel ropes or are controlled by means of motors "floating freely".
What to consider when planning or constructing a truss system
The design of a truss system requires thorough planning and the considering of numerous aspects. 2M will support you with our comprehensive expertise. On-site, we will analyze together with you the conditions of the venue and plan the perfect truss system for your event. The ground conditions and the exact measurements of the venue are of particular importance. These details will be determined by means of a laser measurement device.  Furthermore, additional space for setting up individual truss elements will be considered.
Delivery information
Each Milos truss system is available as 2-point, 3-point and 4-point beam. Our truss systems are all TÜV certified and are available in three types: "Medium Duty", "Heavy Duty" and "Electro" with interior multifunctional channel.
Our product range consists of the following trusses:
Mini Truss M222
Standard trusses with conical connections M290 and M390 (also as HD)
the M400 for higher loads in square or rectangular shapes
the M520 with 4 mm wall thickness
the M950 with 5 mm wall thickness for especially wide spans and high load requirements.
The types M520 and M950 are available both in rectangular shape and as folded truss.
Contact persons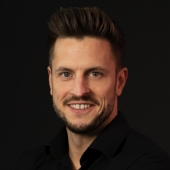 i.V. Andre Nölle
Sales manager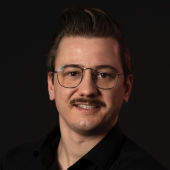 i.V. Gerrit Pape
Project manager