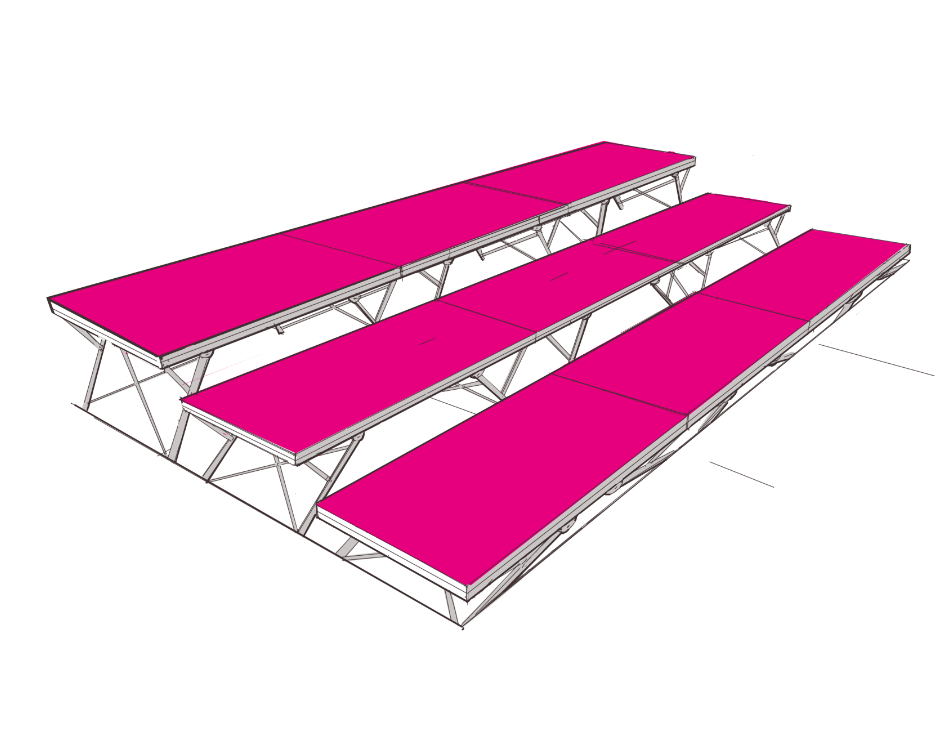 Stages
& stands
2M offers the following stages & stands
Outdoor stages with roofs, mobile stage platforms or a stage combined with stage elements and spotlights will put your event in its true light. Our 2M products provide a solution for any type of event.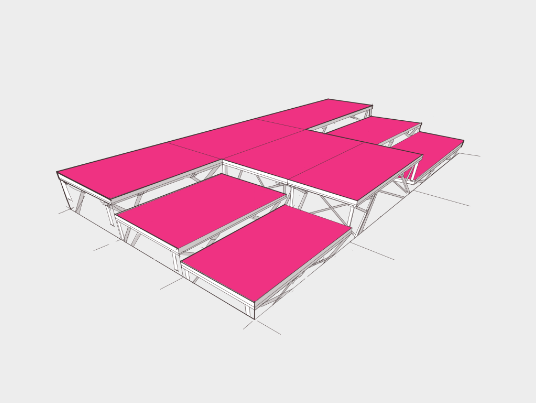 Our stationary stage platforms are permanently installed and can be stored flush with the floor.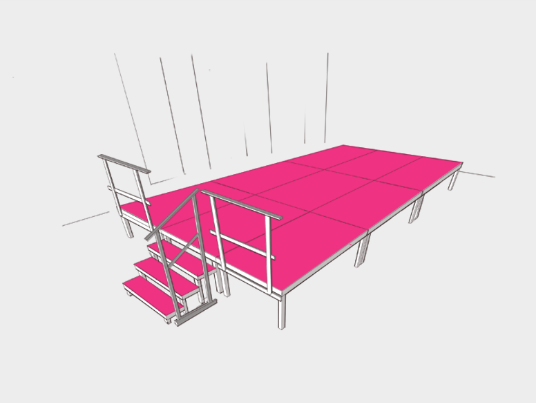 The ERGO | Trend, ERGO | one and ERGO | flex stages are all very flexible and easy to install. Thanks to their telescopic legs the weatherproof ERGO | trend light, ERGO | one light and ERGO | flex light can balance the stage on uneven surfaces.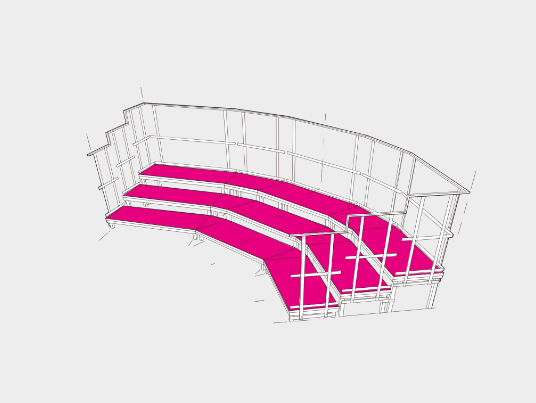 The stage platforms ERGO | one and ERGO | flex allow for different heights depending on the conditions of the venue and your individual requirements.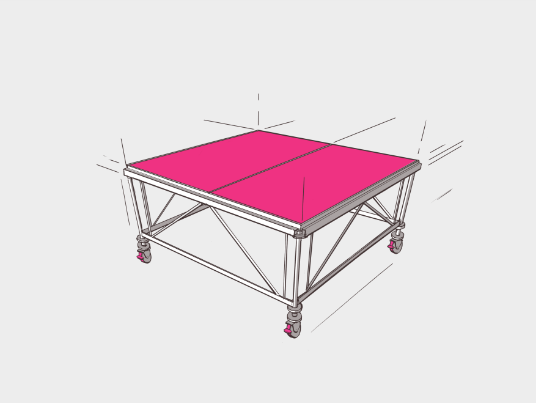 Our rolling stages are suitable for big tour stages which can be moved to different locations.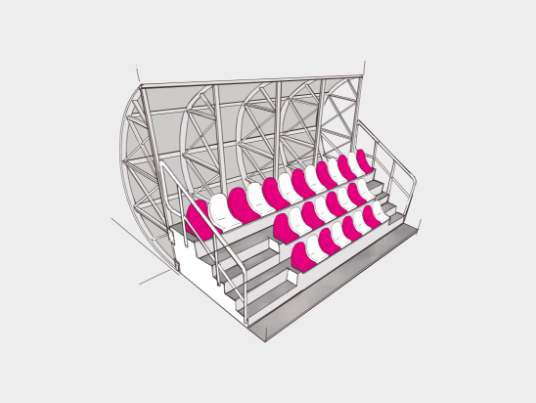 The mobile stands ERGO one and ERGO one light can be equipped with seats, benches or chairs and can be used both indoor and outdoor.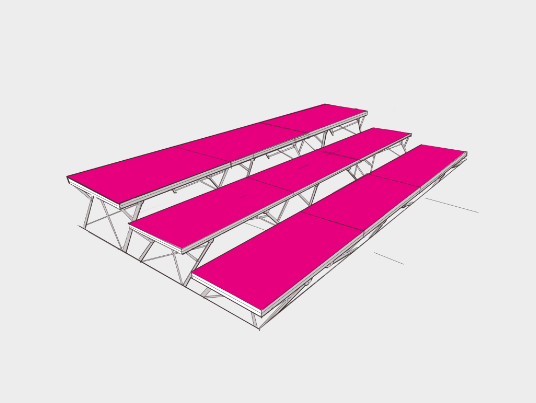 The stationary stand ERGO | lift can be permanently installed, adjusted in height and also stored flush with the floor thus saving both time and space.
ENQUIRE NOW!
Are you interested in our products? Send us a brief enquiry and you'll receive a perfectly tailored selection of products directly from 2M.
TÜV CERTIFIED
Every 2M stage platform from the ERGO series is manufactured in our certified production facility in Ratingen and tested by the TÜV in accordance with the latest standards and directives.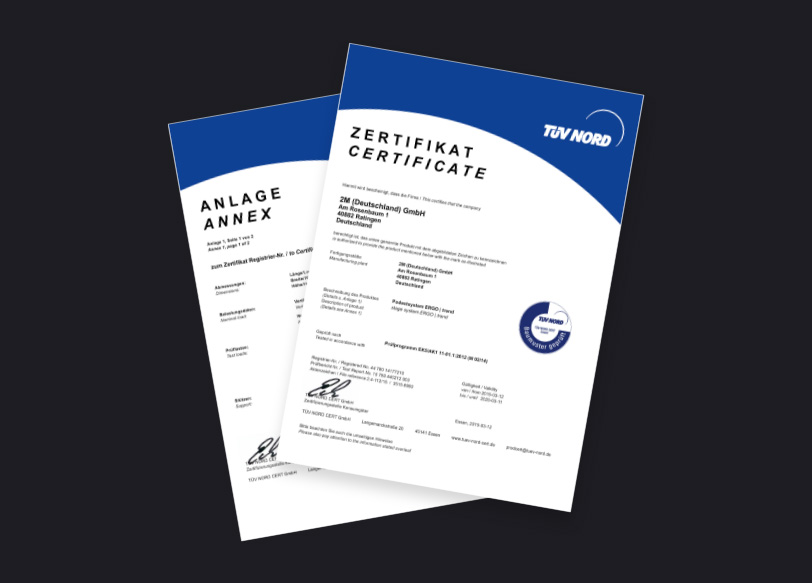 What is a stage?
A stage is either a free surface or an elevated construction which can be seen by the audience sitting in front of it. At the latter, stage elements such as spotlights, curtains or scaffolds for stage designs can be included. Stages are either permanent or completely removable and can be used indoor or outdoor depending on the requirements of the event.
Which stage construction types are there?
Stages can be built in different sizes and forms: either mobile or permanent, with roof or without, indoor or outdoor. Big stages for theatre or outdoor stages for events are very popular. Today, the runways known from fashion shows or stages in U shape are often used for concerts thus making the audience part of the show. Apart from that, there are also robust stand systems on sports grounds or special stages such as lake stages, which are built especially for specific events.
What is a stand?
There are basically two types of stands: elevated platforms for presentations, speeches or shows and constructions with stairs for seating an audience. These kinds of grandstands are e.g., permanently installed in football stadiums or can be installed temporarily and in different sizes thanks to our modular construction method. It is possible to build stands in square, round or oval forms thus enabling the audience to have a perfect view on the show.
Which stand construction types are there?
It doesn't matter if you need a stand for a theatre or a stadium: Our stands can be used as stationary or mobile stands depending on your event.  Permanent stands which are adjustable in height are only used indoor and do not have to be transported or stored.  Mobile stands with a modular construction method, however, can be used both indoor and outdoor and are popular for irregular events due to the easy disassembly.  For mobile stands different sizes are possible. Telescopic stands are also suitable for different purposes thanks to their flexibility. If they are not needed you can store them in a space-saving way.
Buying stages & stands at 2M
Depending on the planned event there are different requirements for stages and stands such as outdoor or indoor stages, platforms, runways or stands with stairs and seats. No matter which type of stage or stand you need 2M provides competent support for your event with a state-of-the-art technical product portfolio and a comprehensive planning and installation service.
Stages & stands: What to consider
Before purchasing a stage or stand you need to consider several questions: Is the construction for indoor or outdoor? Is it meant to be permanent or should it be disassembled after the event?  How big is your audience?  2M will support you in finding answers to these important questions. We will plan the perfect stage or stand and discuss with you, which construction method will be suitable for the requirements of your event. 2M - innovation and competence for your event!
Maintenance Work & Service
Contact persons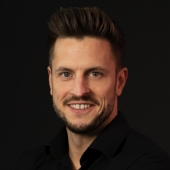 i.V. Andre Nölle
Sales manager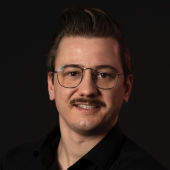 i.V. Gerrit Pape
Project manager